Trial of "IATA Travel Pass" Mobile App for COVID-19 Test Result Digital Certification
Shinagawa East Medical Clinic signs a contract with IATA for Travel Pass in preparation for the adoption of digital COVID-19 credential apps.
ICC AOK pass First Authorized Institution in Japan
ICC (International Chamber of Commerce) AOK pass authorized the Shinagawa East Clinic is the first authorized medical institution in Japan.
In December of 2020, a citizen returning from Japan to Singapore Airlines successfully used the ICC AOK pass to officially present a negative COVID-19 PCR digital test result for arrival verification at Changi Airport's immigration counters.This was the first time an immigration authority has used a blockchain based digital verifiable health certificate from our clinic.
Authorized by State of Qatar
Shinagawa East Clinic is one of four medical institutions in Japan certified by the Government of Qatar. If you need a PCR negative certificate, please make a reservation.
From April 25, 2021, visitors to Qatar must undergo a PCR test at a medical institution accredited by the Government of Qatar (or a medical institution accredited by the Local Ministry of Health if there is no medical institution) within 72 hours of entering Qatar, obtain a certificate of inspection, and present it at the time of entry.
The State of Hawaii Authorizes our Clinic
The state of Hawaii will ONLY accept Nucleic Acid Amplification Test (NAAT) from a certified Clinical Laboratory Improvement Amendment (CLIA) lab test results from TRUSTED TESTING AND TRAVEL PARTNERS (as of November 18, 2020). Our clinic is designated as a TRUSTED TESTING AND TRAVEL PARTNERS.
A negative COVID-19 test result is required prior to departure to avoid quarantine in Hawaii from November 6, 2020.
Authorized by Chinese Embassy
Traveling from China to Japan, since September 25, 2020 PCR negative test result certificate is required.  It has started since 10th of January 2021 on flight, the method was renewed.
This certificate shall be issued by the authorized medical institution by the Chinese Embassy. Our clinic is designated by the authority.
Shinagawa East Clinic is designated by TeCOT(Testing Center for Overseas Travelers)
Depending on destination country (for example, Singapore and Vietnam), only COVID-19 testing certificates issued by medical institutions in the "Register of Medical Institutions Issuing COVID-19 Testing Certificated" may be accepted. Please be assured that our clinic in authorized.
Traveling Abroad PCR Negative Certificate
Shinagawa East Clinic enacts the measure to take samples by saliva, lower risk of scattering virus. If you are required to be taken via swab(nasopharyngeal), please ley us inform when booking. For business travelers who need a negative PCR result medical certificate could be possible to receive on the next day of testing, in the shortest way.
Shinagawa East Clinic is designated as authorized clinic by the JSTH (Japanese Society of Travel and Health). It is possible to issue PCR test result and English medical certificate to travel abroad. For some l travel passengers, PCR testing shall be strictly required to take within 48 or 72 hours before the departure. For passengers traveling abroad are prioritized to take PCR test so we can issue English PCR negative medical certificate in the next day, around 6pm. Our clinic accomplished to support travelers who went to Asia, Europe, North America, and Africa more than 1,500 cases until August, 2020. Immigration restrictions are depended on the countries, frequently changed, please check yourself the latest information.
PCR Test
Target persons
Persons who have no symptoms
Testing Date
Weekdays within the clinic business hour (Saturdays: only to receive the result)
What to bring
Your ID, Passport (copy or original)
Time required
About 15-30minutes
Medical Certificate
Designated style form countries: to receive by the country's format
No designated style form countries: to receive by the negative PCR result medical certificate (our clinic format)
How many days required
next day after 16:00 pm~
same day 18:30pm~
Receiving date
Weekdays within the clinic business hour (Saturdays: only to receive the result)
How to receive
Come to our clinic or email (PDF), or postal service
※Weekdays: until 19:00pm, Saturdays: until 18:00pm
※If you need the original document, please choose to come.
Price
Please see below the details.
This is the test and medical certificate of negative proof; medical expenses are not covered by the insurance card.
※If you wish to invoice to company please call us by the person in charge.
Group Test
We adopt the company, group test. One hundred scale testing are available.
PCR Test Price
PCR test English Negative Medical Certificate
1 sheet included
39,600 yen
Included one English written negative medical certificate.
For designated style format countries, the format is used.
Saliva
E.g.) PCR Negative Medical Certificate
※*China (PCR test + plasma IgM antibody test), * Thailand (PCR Test + Fit to Fly)

*Hawaii:27,500 yen
*America other than Hawaii: Study abroad discount / introduction discount available
Medical Certificate
(Exam only)
11,770 yen
English written Negative Medical Certificate 1 sheet included.
If designated style format countries immigration, the format is used.
E.g.) destination to South Korea, Thailand, Fit to Fly are required, included it
Medical Certificate
Exam, CX-P
13,970 yen
English written Negative Medical Certificate 1 sheet included.
If designated style format is existing, the format is used.
E.g.) South Korea visa application use
PCR Test (Optional)
Method: change from Saliva
to Swab (nasopharyngeal, or nasal cavity)
4,400 yen
Change from Saliva to throat
0 yen
Additional form
2,200 yen per 1 document added

same day or next day before 16:00 pm
4,400 yen
Saturdays and holidays test
4,400 yen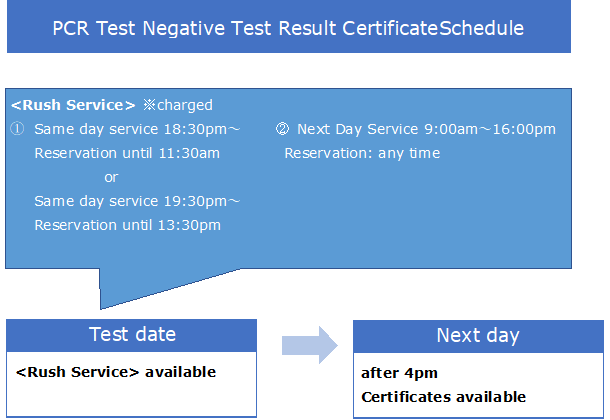 Notice
About PCR test
・The basic method of collecting sample is "saliva".
・Please let us know if the collection method is swab.
・If you have a small child of 1 or 2 years old or have difficulty collecting saliva, switch to swab collection.
What to bring
・Copy of passport
General notification
・Please refrain from eating and drinking within 30 minutes before the test as it may affect the test results.
Notes on overseas travel and issuance of certificates
・The certificate will be handed over after 16:00 (until 19:00) the day after the test.
・If you would like to issue on the same day, please let us know at the booking. Please make a reservation by 13:30. The certificate will be handed over at around 18:30 on the same day. A rush Service of 4,400 yen will be charged.
・If you test on Friday, the certificate will be handed over around 16:00 (until 18:00) on Saturday.
・「Test within 72 hours of departure」、「Issued within 72 hours of departure」、「Test within 72 hours of entry」. It varies depending on the country of travel, so please check in advance.
・If there is no designation of the date of the test, we recommend that you test within 5 days of departure.
・if you have any questions please feel free to contact us.
Appointment Time
・Our clinic appoint time are set per each 30-minute. Every time setting multiple examiners are made an appointment, within the same schedule, the first person is called in order.
Other notes
・Once you book your flight, make a reservation for PCR test.
・We do not take any responsibility such as not being able to catch the flight due to the delay of the result of PCR test.
The country that issued the PCR negative certificate for overseas travel(As of October 2020)
UAE, Azerbaijan, USA, United Arab Emirates, Argentina, United Kingdom, Iran, India, Indonesia, Uganda, Uzbekistan, Ukraine, Egypt, Ethiopia, Australia, Austria, Netherlands, Ghana, Kazakhstan, Qatar, Canada, South Korea, Greece, Cyprus, Kyrgyzstan, Guatemala, Kuwait, Croatia, Greenland, Kenya, Cote d'Ivoire, Costa Rica, Colombia, Congo, Saudi Arabia, Samoa, Sierra Leone, Zipti, Singapore, Zimbabwe, Switzerland, Sudan, Sri Lanka, Senegal, Solomon Islands, Thailand, Tajikistan, Tanzania, Czechoslovakia, Germany, Dubai, Turkey, Dominican Republic, Nigeria, Namibia, New Caledonia, Noumea, Nepal, Bahrain, Pakistan, Palau, Timor-Leste, Hungary, Bangladesh, Philippines, Bhutan, Fiji, Puerto Rico, Brazil, France, Brunei, Burkina Faso, Vietnam, Belarus, Poland, Botswana, Portugal, Malaysia, Marawi, Malta, South Africa, Maldives, Mauritius, Mozambique, Morocco, Jordan, Laos, Romania, Lebanon, Russia, Taiwan, China, etc.
※Swab-designated countries: Vietnam, Myanmar, Thailand, Cambodia, UAE, Italy, Egypt, Morocco (January 2021)
※<China> the Chinese embassy only accepts the nucleic acid rt-PCR and IgM serum antibody test.
Group Reservation
A group reservation over 100 people is available. In this case, please contact us on the phone by a person in charge.